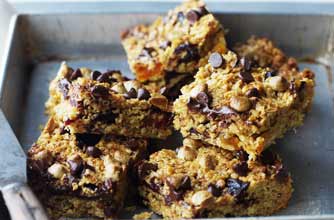 Okay. Sorry about the Nougat cake being expert level ''Only Mammys can Make This'' :)
But if you mess this one up, then there really is no hope for you, baking wise :D These are the best flapjacks ever...
115g Butter (real Butter)
200g rolled oats, (Not Jumbo Oats, the smaller kind, and not pinhead or oat groats either...the rolled kind! Okay)
55g hazelnuts
55g Plain Flour
85g brown sugar (not muscovado ...yeeeuch)
2 TBSP Golden Syrup (I don't know what this is called in USA, or even in Europe)
55g really nice dark chocolate (cooking kind...not the cheap stuff)
Toast the hazelnuts. You can do this on a dry pan or a few minutes in the oven. Watch them. it happens quite fast. Put then in a paper bag and bash with a rolling pin to chop them. Not to small, leave in chunks. Or whatever other way works for you.
Combine Oats, Flour, Nuts in a bowl and Mix.
Put sugar, butter and golden syrup in a pot and melt. Now not on the hob of hell....,just gently!
Stir that mix into oat mix.
Chop up the good chocolate with a sharp knife (lengthways, then  sideways, does not have to be exact)
After a moment or two add the chocolate to the mix...it should not be too warm still as the chips melt and its better if they don't.
Then put this whole mix onto a shallow baking tin that you have greased with butter. Don't forget that part.
Then bake at 350F/ 180C for 20 to maximum 25 minutes. Check after about 15 to make sure they are not burning. Don't overcook them.
Mark them into flapjack shapes with a knife as soon as you take them out, but leave everything to cool completely on the baking tray. Then break them into shapes and store in a tin.