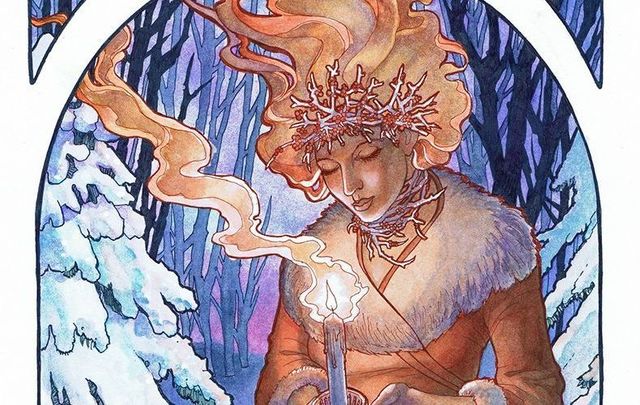 Today is imbolc, the start of Spring (pagan calendar) and the celebration of Brigid. She is latterly known as St. Brigid, a nun who established a monastery in County Kildare, where a sacred fire of hawthorn was perpetually tended by priestesses. Vestal virgins around an eternal flame.
But she had a former life, it is said, and the saint was a merging of stories with her, or a reincarnation. She was Brigid or Bríd, the daughter of the Dagda, he who was the father-figure of the Tuatha de Danann, and his wife Boann.
She became known as the goddess of Fire, healing, smithcraft, poetry.
Her soul is like a sun in the heavenly kingdom
among the choir of angels and archangels.
And though great be her honour here at present,
greater by far will it be,
when she shall arise like a shining lamp.
(Prayer of Brigid from the Book of Lismore)
She is a goddess of the Dawn, later told of as Brigantia - the noble, elevated one, Brihati in Sanskrit. Brigid was born at dawn. It is said that when she was born a column of fire rose from the infant's head to the heavens. The column joined Earth and Heaven. It appeared as if the whole house was on fire.
One of Brigid's most ancient names is Breo- Saighead, which means fiery arrow or fiery power.
This motif is repeated in the later story of St Brigid when she was going to be veiled as a nun. A flame rose from her head to touch the roof of the church. The motif was also repeated before the birth of the  saint - an old man prophesied her birth, and saw the family house engulfed in flames. 
Brigit, ever excellent woman,
golden sparkling flame,
lead us to the eternal Kingdom,
the dazzling resplendent sun.
(Prayer of the nuns at Brigid's convent)
"Victorious Brigit,
Glory of kindred,
Heaven-King's sister,
Noble person,
Perilous oath,
Far-flung flame.
She has reached holy Heaven,
Gaeldom's foster-mother,
Support of strangers,
Spark of wisdom,
Daughter of Dubthach,
High-minded lady,
Victorious Brigit,
The living one of life.
(Source Unknown)