Persia is 
one of the world's oldest continuous major civilizations, with historical and urban settlements dating back to 7000 BC. (Wikipedia)
Persian civilization, Achaemenid period, 5th century B.C. Frieze depicting griffin- lion of glazed brick. From the Palace of Darius I at Susa, Iran
Present Day Iran - its borders carved out by UK and Russia, and a theocracy since 1979 after the Islamic Revolution. Iran was largely a Zoroastrian country, until it was converted to Islam in the 8th century AD.
 The name Iran comes from the word Aryanam, meaning "Land of the Aryans." (Source) (This link also contains a good abbreviated history)
The Persian Empire that extended from Iran - at its height from the 6th to 4th century BC, especially under Darius I, at the end. Extended from Egypt to the Balkans to Turkey and to India.
It was the largest empire to have existed in the world to that date, and connected 40% of the global population at the time.
For more than 1000 years, Iran was the leading world power. In various times it was conquered by Alexander the Great and by the Mongols.
The area around Iran has been populated for tens of thousands of years. Neanderthal tools dating back to 100,000 years have been found there. Iran is part of the Fertle Crescent where agriculture first developed (in this cycle of civilisation - my addition).
The history of Persia is enormously rich and complex and I cannot possibly even attempt bullet point summaries. This site here linked gives a nice description of some of the history - http://www.heritageinstitute.com/zoroastrianism/iranpersia/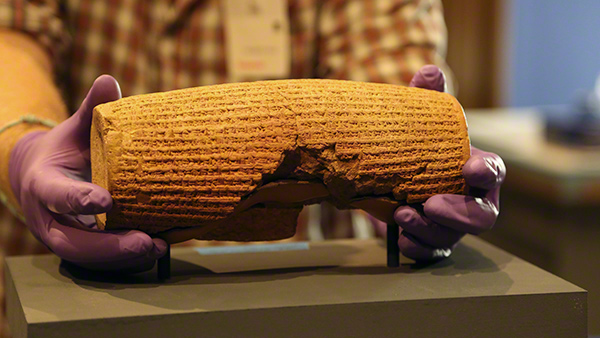 The Cyrus Cylinder - 6th century BC, discovered in the ruins of Babylon. Made of baked clay. Written in Akkadian cuneiform script.
I am Cyrus. 
King of the world. When I entered Babylon... I did not allow anyone to terrorise the land... I kept in view the needs of Babylon and all its sanctuaries to promote their well-being... I put an end to their misfortune.
I follow a site called ''Prehistory of Persia'' which posts archaeological finds from digs in Iran. The items are often striking in their beauty, symbolism and complexity, and I wanted a thread to share them. Just looking at images of these ancient works of art, tools, burials and other discoveries gives visual confirmation of the complexity of our shared past as humans. It is a stimulus to the imagination, an inspiration. So here is that thread.
Iran to Missouri, we calmin' the fury
Another interesting article on Iran, present day, and its history. ~ http://ngm.nationalgeographic.com/2008/08/iran-archaeology/del-giudice-text
Shaft-hole axe head with bird-headed demon, boar, and dragon

The idea of the heroic bird-headed creature came from western Iran, where it is first documented on a cylinder seal impression.

Period: Bronze Age
Date: ca. late 3rd–early 2nd millennium B.C.
Geography: Bactria-Margiana
Culture: Bactria-Margiana Archaeological Complex
Medium: Silver, gold foil
Dimensions: L. 15 cm
The hero's muscular body is human except for the bird talons that replace the hands and feet. He is represented twice, once on each side of the axe, and consequently appears to have two heads. On one side, he grasps the boar by the belly and on the other, by the tusks. The posture of the boar is contorted so that its bristly back forms the shape of the blade. With his other talon, the bird-headed hero grasps the winged dragon by the neck. This creature is distinguished by folded and staggered wings, a feline body, and the talons of a bird of prey in the place of his front paws. 
"Bear-Woman" Vessel, c. 1200-1000 BC
Artist: Marlik, northwest Iran, c. 1200-1000 BC
Type of art work: Ceramic
Medium: ceramic, earthenware, burnished
ceramic, earthenware, burnished, Overall: 24.1 x 14.7 x 16.5 cm (9 7/16 x 5 3/4 x 6 7/16 in.)
Cleveland Museum of Art : 102A Ancient Near East
The sexual features of this creature have been emphasized so as to guarantee fertility to the woman who drank from it.
Winged Ibex Horse Bit, 800-600 BC

Artist: Luristan, Iran, 800-600 BC
Type of art work: Sculpture
Medium: bronze, cast and incised
Jar with beaked spout and stag figures on rim

Near Eastern, Iranian - Iron Age
early 1st millennium B.C.
Mountain goat

Near Eastern, Iranian, Elamite
Proto-Elamite - 3500–2700 B.C.
Findspot: Iran
Dimensions : Height x length: 4 x 7 cm (1 9/16 x 2 3/4 in.)
Medium or Technique : Silver and sheet gold
Venus of Sarab
Figurine of a nude woman, known as the 'Venus of Sarab', from Tappeh Sarab, Iran, c.6th millennium BC (clay).
Worshipper ? - KHURVIN

Bronze
H: 9.06 cm. W: 4.92 cm
Iran - Khurvin
End of the 2nd-early 1st millennium B.C.
Date: 3000 BC
Geography: IRAN - Guilan province - Caspian Sea area
Culture: Iran - Amlash culture
Medium: ceramic
Dimensions: Both 37.5 cm
(Back when we were 6-toed creatures - haha)
Golden necklace of three Swastikas found in Marlik, dates back to first millennium B.C
The world's oldest artificial eyeball was found on a female skeletal remains

The world's earliest prosthetic eye was worn by an ancient Persian priestess. The female soothsayer stood 6' (1.82m) tall, and the mesmerizing effects of the golden eyeball would have convinced those who saw it that she could see into the future. "It must have glittered spectacularly, conferring on the woman a mysterious and supernatural gaze," said leader of the Italian team Lorenzo Costantini, adding, "She must have been a very striking and exotic figure."

The priestess lived 5,000 years ago in what is now Iran, where her skeleton was unearthed in 2006 by Iranian and Italian archaeologists excavating an ancient necropolis at Shahr-i-Sokhta ["Burnt City"] in the Sistan desert. The eyeball was made of a lightweight material thought to be derived from bitumen paste and later determined to consist of a mixture of natural tar and animal fat. Lines had been engraved radiating from the iris and gold that had been applied in a thin layer over the surface. A tiny hole had been drilled on each side of the half-sphere, which had a diameter of just over 1" (2.5cm), so that it could be held in place with thread
MORE TO FOLLOW....