The word "Egregore" derives from the Greek word egrégoroi, meaning "watchers", which also transliterates as "grigori". The word appears in the Septuagint translation of the Book of Lamentations, as well as the Book of Jubilees and the Book of Enoch ( Hermes ). Even being derived from the word Grigori, which acquired a somewhat negative aspectation over the time, the general concept of Egregore is not evil.  Gaetan Delaforge, inGnosis Magazine in 1987, defines an Egregore as a kind of group mind which is created when people consciously come together for a common purpose.
Egregore (also egregor) is an occult concept representing a "thoughtform" or "collective group mind", an autonomous psychic entity made up of, and influencing, the thoughts of a group of people. The symbiotic relationship between an egregore and its group has been compared to the more recent, non-occult concepts of the corporation (as a legal entity) and the meme.
*click on image to play Music
In the Book of Daniel 4:13, 17, 23 (ESV)[4] there are three references to the class of "watcher, holy one" (watcher, Aramaic `iyr; holy one, Aramaic qaddiysh). 
it is similar to :  Tulpa

 (

Tibetan

: 

སྤྲུལ་པ

, 

Wylie

: 

sprul-pa

; 

Sanskrit

: 

निर्मित

 N

irMita

[1]

 and 

निर्माण

 

nirmāṇa

;

[2] "to build" or "to construct") also translated as "magical emanation",[3]

 "conjured thing" 

[4]

 and "phantom" 

[5]

 is a concept in 

mysticism

 of a being or object which is created through sheer spiritual or mental 

discipline

 alone. It is defined in Indian Buddhist texts as any unreal, illusory or mind created apparition.
Ptah's original name in Ancient Egyptian is reconstructed to have been pronounced as *Pitáḥ based on the occurrence of his name in hieroglyphics, ptḥ, surviving into Coptic as Ptah, just as it is now written in English. The name was also borrowed early on into Greek as Φθα Phtha. The meaning of his name, which can be translated as "the opener," is somewhat ambiguous, though it may be related to the "opening of the mouth" ritual that was often credited to him. (Budge 1895, cviii) However, it should be noted that the only uses of this verb in Egyptian texts place this "opening" in a very particular context, as represented by the verbs "to engrave," "to carve," or "to chisel"—a usage that is also paralleled in Hebrew. (Budge 1969, Vol. I, 500) In this way, the god's name echoes his association with crafting and creation.
When a group of people pray and meditate collectively towards an objective, an Egregore of protection and blessing is sent forth, as a circle of Light that shields and safeguards the objective of the prayers.
§ herbie mann_ob-la-di,ob-la-da §
Psychologically speaking, an Egregore is that "atmosphere" or "personality" that develops among groups independent of any of its members.  It is the feeling or impression you get when walking into a neighborhood that "feels different" from the surrounding area, or when visiting a club or association that has been around for a long time.
In an occult or magical context, an Egregore is the general imprint that encircles a group entity.  It is the summary of the physical, emotional, mental and spiritual energies generated by two or more people vibrating together towards the same goal; being a sub-product of our personal and collective creative process as co-creators of our reality.
Nafs (نَفْس) is an Arabic word (cognate of the Hebrew word nefesh נפש) occurring in the Qur'an and means self, psyche[1] ego or soul. In the Quran, the word is used in both the individualistic (e.g. verse 2:48) and collective sense (verse 4:1), indicating that although humanity is united in possessing the qualities of a "soul/nafs/consciousness" they are individually responsible for exercising the agencies of their "free will" that it provides them.
An Egregore has developed to the point of attaining an independent existence as an entity itself or as an intentionally created entity, such as a servitor, that has grown in power well beyond its original design. To a non-religious practitioner of magic, an Egregore and a god, or goddess, would be interchangeable terms.  To a religious practitioner, an Egregore would be just below the level of a god or goddess.
The vast majority of human beings both incarnated and disincarnated are, in one way or form, connected to an Egregore. 
Sumer :  IGIGI - Those Who See and Observe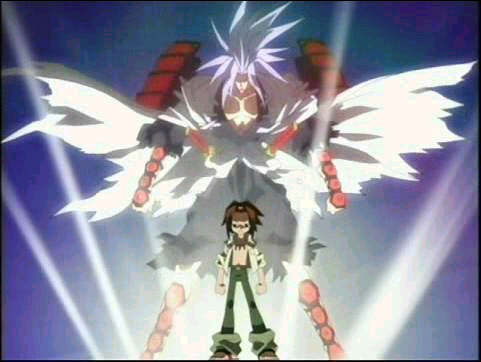 Image from Shaman King
There are good Egregore that are positive and that bring blessings, good energies and protection against negative vibrations.
ps: Marian Apparitions are they eggregore / Tulpas made by humans or by other intelligences ( ie :  Gaya ... )
.... Maps and Superstitions ...
....  to be continued 
good thoughts bad thoughts funkadelic lyrics
What is social mood? Social mood is a shared mental state among humans that arises from social interaction. Social mood predisposes individuals in the group toward emotions, beliefs and actions. It fluctuates constantly in a fractal pattern. It is unconscious, unremembered and endogenously regulated.